Background
2-4 Ellison Road is currently several dilapidated houses with unused/closed up retail space at ground floor. The vision for the regeneration of this space was to create an attractive, vibrant, inspiring and sustainable development of residential and commercial space that will enhance local context while providing some much needed housing and retaining retail use at ground floor. In doing so we delivered a high quality piece of architecture that is a welcome addition to the local townscape of Streatham.
The most significant issue to overcome was the energy and sustainability targets as required by the local council. Even though the site is relatively small it still had to meet the requirements of the London Plan 2016, which is greatly reduced energy consumption and CO2 emissions, with the addition of some renewable technology, in this case solar panels. The commercial spaces also had to achieve a BREEAM "Very Good" rating.
Services provided
Energy Statement
BREEAM Pre-assessment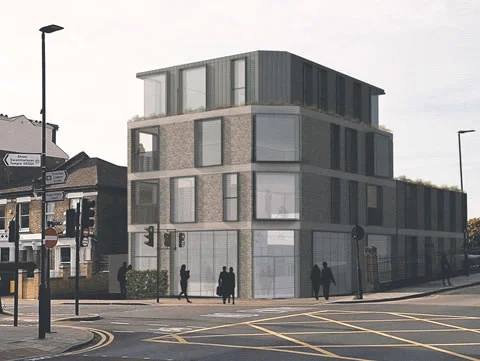 Results
QuinnRoss Energy performed all Building Regs, energy and CO2 thermal modelling calculations, energy strategies, and all BREEAM pre-assessments. Although not instructed to, we also advised quantities of solar panels required to meet the council's requirements, amounts of insulation needed to enable the constructions to comply and thermal and solar performance of the glazing.